We found out everything there is to know about private soccer training and we're going to share with you everything we discovered, to help you decide whether you need a private soccer coach.
In this article:
·      The current state of soccer
·      What is private soccer training?
·      Does private soccer training work?
·      How to choose a private soccer coach?
·      What should my private soccer coach teach my child?
The soccer world came to a standstill earlier this year: grassroots and youth soccer to professional soccer was stopped in its tracks.
Video calls and online webinars replaced the normal team training sessions and competitive games.
Young players around the world took to YouTube or TopTekkers to find inspiration for practice and an individual training culture began to develop among many young soccer players.
Those methods will hold players in a good position as teams return to the field around the globe, many under strict guidelines that prevent contact between players. 
With competitive league seasons hanging in the balance, coaches and players are faced with the challenge of development, without the benefit of regular competition.
What can we do to ensure we keep improving?
Parents and players may look to a rising trend for answers; private soccer training.
A private soccer training program is the practice of an individual or a small group of individuals, to supplement a regular team training schedule. It's often used by players that want to put in additional work outside of their team sessions, improve soccer skills, improve deficiencies in their current performance or train more functionally, by conducting individual soccer sessions. 
The term 'functional training' is a real buzz term in all sports right now. It essentially means training exercises to suit the individual. A striker practicing a series of shooting activities would be a good example of functional training.
The England national team were noted for incorporating a striking coach to work with the likes of Harry Kane and Raheem Sterling during their preparations for the 2018 World Cup. 
Prices for private soccer training can vary based on how often players train, with some coaches offering packages for sessions purchased in bulk. Training frequency is important though, right? If we want to get better at something, we need to practice regularly.
Josh Horne, of J5 Soccer Training, said: "Players typically train with me once or twice a week. I'm a big advocate for individual training because it ensures you are practicing 2-3 times a week in addition to your team sessions and games. This will give you an advantage over other players. The more you train, the more your body adjusts to the demands of the game and the better player you will become. The more time and effort you put into sessions the better you will be."
Probably the most important question to ponder is 'does private soccer training work?'  Well the good news for all you parents currently experimenting with private lessons for your child is yes, it can!
Individual practice, either with or without a coach, can be very beneficial for a player. The graphic below explains the benefits of employing a good private coach, and the drawbacks of using a bad one.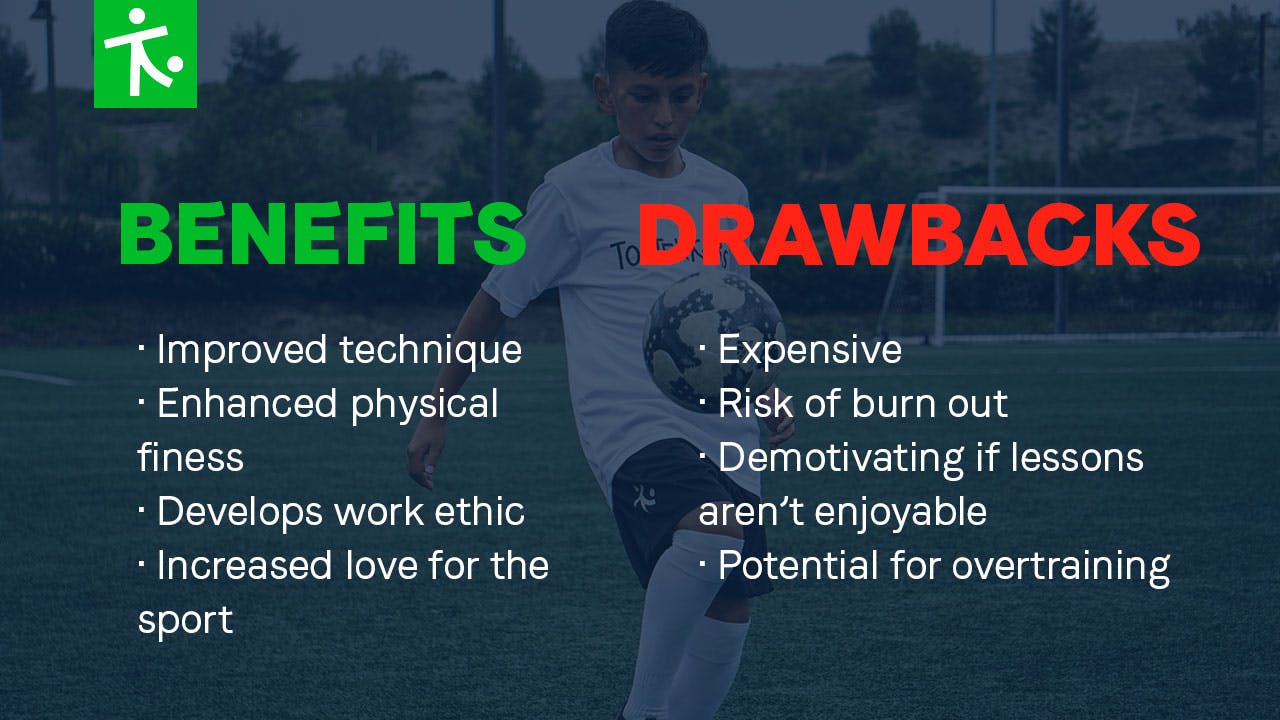 The question of how necessary a private coach is, is a common one among parents.  Coaches who train teams will often be asked for their thoughts on private training by team parents.
Additional training is absolutely necessary for any player to improve. Whether it's necessary to spend hundreds of dollars or pounds on a private coach to guide that additional training is purely a personal decision, and should be made carefully. 
Is your child self-motivated or do they require external motivation? 
Do they have a good understanding of how to train in isolation or do they need some added inspiration? 
Do they learn better by themselves or in a group setting?
How do I choose a private soccer coach?
Ok, so you've decided to go for it! Now it's time to select a coach. Your team's Head Coach is a great place to start as they will know your child well.
But are they better coaching in a team environment or individuals? That's important.
Perhaps they can recommend a colleague; someone they know and trust who specializes in individual soccer training. 
It's also worth chatting to other soccer parents you know, whose children are taking private soccer lessons. Do they have a competent coach they could recommend? Word of mouth is a great way to find the right candidate.
Samuel Philip, founder at The Technique Trainer, believes it's important to ask the prospective coach the right questions to ensure your ambitions align.
He advises: "Parents should ask about the coach's background and experience in working with individuals specifically. Are they a club team coach or a coach that specializes in individual training?"
"Ask for reviews from players they have worked with to back up their credentials."
It's time for your child's first private training session. The coach has been selected and your aspiring soccer star is excited for their first lesson. Job done, right? 
WRONG! What they're actually going to work on with your child is important. They need to have a plan. Ask to see it.
If you opted to use someone outside of your team coach, can they discuss your child and the areas they need to focus on in these trainings? Initiate a conversation between team coach and private coach.
Bear in mind, a lot of the work they'll do will be on the technical aspects of the game ie what they do with the ball; dribbling, passing, shooting et al.
Some things can only be taught in a team setting, which is why private soccer training is often used to supplement the work being done in a team session.
Invite the private coach to a game before you commit to your lessons. If you're willing to commit to the coach financially, they should be willing to commit to your child.
Watching them in a game is a great way of assessing their performance and determining what areas they need to work on. If they can't make it to a game, send them some unedited game footage.
Josh Mountain, Owner of the Orange Soccer Academy in Preston, UK said: "We would always recommend parents and players consider what it is they want to work on."
"We would initially give them the option first. There are activities and movements that we include in every session to ensure players train their fundamental base/skill set, however we like to give players the ownership of the direction they'd like sessions to go in."
"We then expect their coach to create sessions which look as close to a game or game situations as possible."
Once the lessons begin, stay and watch. Are they high intensity? Is there lots of repetition? Is your child having fun?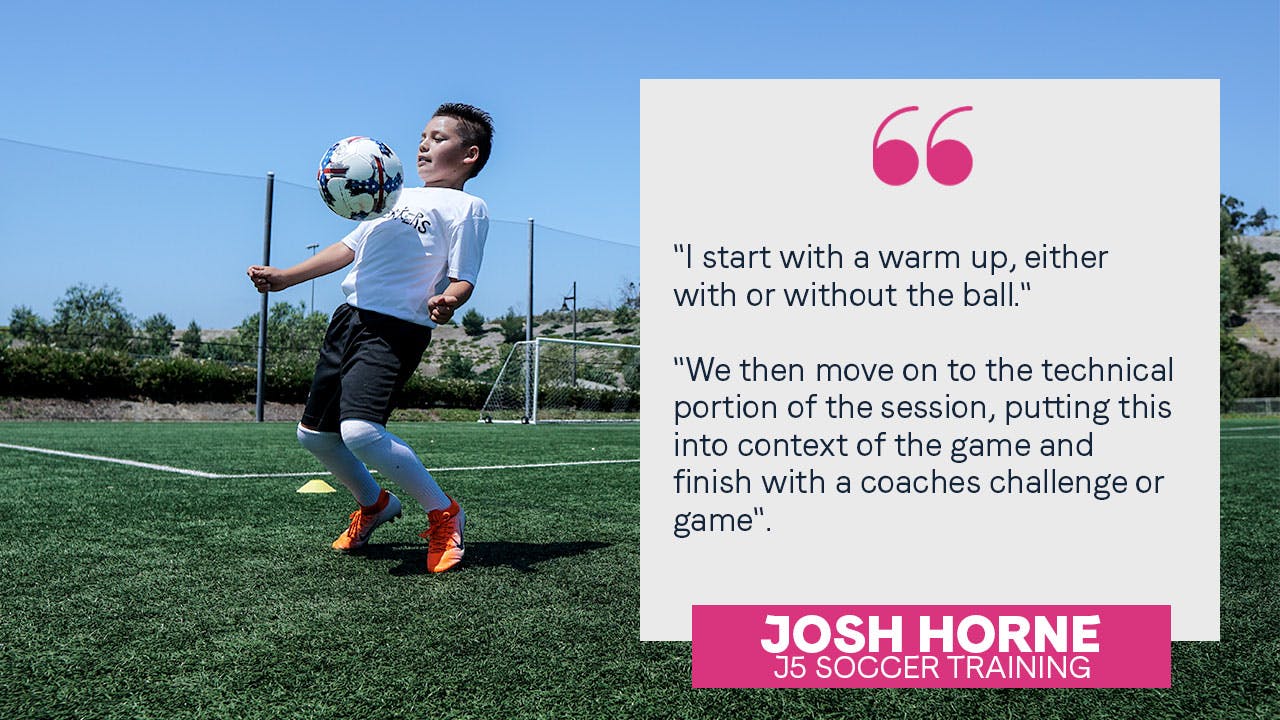 The most important thing to consider next, is whether the sessions are working. Is your child getting better? Ask the private coach and ask your child.
It's important to remember that progression isn't instantaneous. It won't happen overnight. It takes time. Be patient. Consult with your team's coach and ask for feedback.
It can be difficult to measure results. Is there tangible evidence of a player's improvement? Possibly in the form of touches, goals and assists, but that can be too simplistic. 
This is where a tool like TopTekkers can help.
We can teach your child the game's vital techniques, and we provide challenges that track player's scores and monitors progress; tangible results. Click here to find out more.
So good luck in your quest for private soccer training. We're always here to support you.
TopTekkers is your child's own personal soccer coach, available at your fingertips. Register for an account today and give them the supplemental training they need by clicking here.
Contributors:
Samuel Philip, HUDL 2018 Innovator of the Year, founder of the Technique Trainer.
Josh Horne, J5 Soccer Training.
Josh Mountain, Orange Soccer Academy