We spoke with newly-crowned Liverpool County FA Grassroots Club of the Year Litherland REMYCA FC about how TopTekkers has helped them through difficult times in recent months, and why they consider the app an 'invaluable resource' going forward.
Foundation Phase Lead Coach Neil Antrobus was kind enough to explain why TopTekkers (and The Coaching Manual) have been so important and useful for the Merseyside outfit.
He said: "Just before we faced the worldwide pandemic I was made aware that the team behind The Coaching Manual had created a football app, with a few twists, and the opportunity to grow in many directions in the future. Being a regular user of The Coaching Manual for years, designing my sessions using their planning tool, reading their many articles and taking creative inspiration from their many, many sessions by experienced coaches, I was intrigued!
"As someone who really wants to develop players, I had a beaming smile as this app would really support me in developing my players."
"After making contact with their development team, I discovered that they were putting together content that would really support the development of players in the technical corner, using video content which really breaks down the information for players. I also found out that they were working on content in the physical corner which would support players in developing their core stability, agility and coordination. As someone who really wants to develop players, I had a beaming smile as this app would really support me in developing my players. So, knowing that I had a fantastic group of U7 players who were keen to learn and develop, I decided to take advantage of the TopTekkers app. I am so glad that I did because once the pandemic hit it became an invaluable resource."
Founded in 1959, the club has made a fantastic impact within their community, encouraging hundreds of boys and girls to take part in their various youth teams. The club as a whole has a fantastic community feel, from under-7s right through to open age and over-35s. Litherland REMYCA do a great deal to help the local community, be it with food banks or raising money for charity. There are a great deal of volunteers involved within the club helping for it to be the best it can and give football for all across all ages.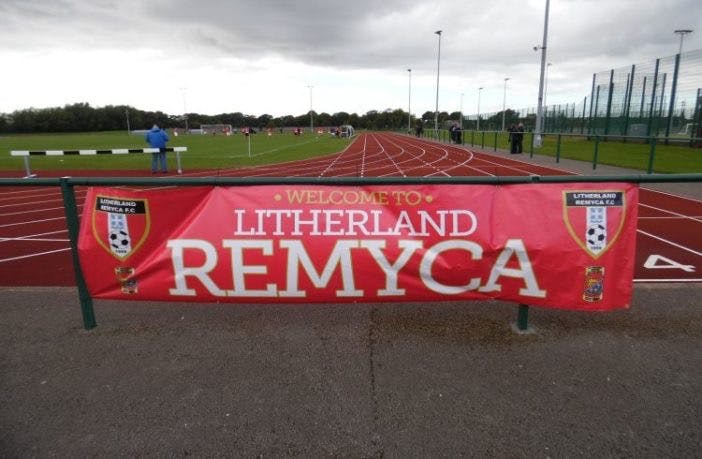 Neil said: "We are a community club, run completely by volunteer coaches and based at the heart of the Litherland community in Liverpool, Merseyside. Our aim is to put the person first. We want to take kids off the street and get them playing the game that they love. We might be their only chance for an escape from 'normality'. We want the players to feel proud to be a part of this fantastic club and demonstrate our values within the local community."
"The players have taken responsibility for their own development and I've been able to monitor from afar and encourage when needed"
Our group of volunteer coaches work tirelessly to support every junior, youth, adult or veteran (male and female) player within our community club, to give them the best opportunity to develop. Some will find that their journey takes them onto elite environments while others can take full advantage of our own player pathway (U7 through to Veterans). While this is still rapidly growing and developing on our girls' side, thanks to the hard work and vision of Colin Begbie, the growth and ambition are that we will have exactly the same pathway as our male side shortly."
How has TopTekkers aided that growth and ambition?
Neil added: "I have been able to set individual development plans for each one of the players. I have been able to monitor their progress through the use of the challenge areas and I have been able to link this to our end of season awards. In fact, the built-in trophy table for the player challenges has developed a lot of friendly competition between the players. We even added in a younger sibling, who was not of the age that he could play yet, but he has flourished. He has taken great delight at trying to earn rewards as part of the built-in function of the app. In essence, the players have taken responsibility for their own development and I've been able to monitor from afar and encourage when needed.
The app has had even contributed to some unexpected benefits for the team, giving confidence to individual players and helping them to 'come out of their shell'.
Neil enthused: "If I could freeze a single moment of the pandemic period and share it with you, it would be when a usually quiet, shy player emerged with his own coaching video! He took inspiration from the videos he had watched using TopTekkers and with his dad recording it, spoke clearly, confidently and demonstrated his striking the ball ability. I have to say, it was an incredible moment. It goes to show that the possibilities are endless and that this app not only develops the player technically and physically but also psychologically and socially."
TopTekkers is not just for these difficult weeks in lockdown. Neil and the other coaches at Litherland REMYCA have long-term plans for the app as we return to normality.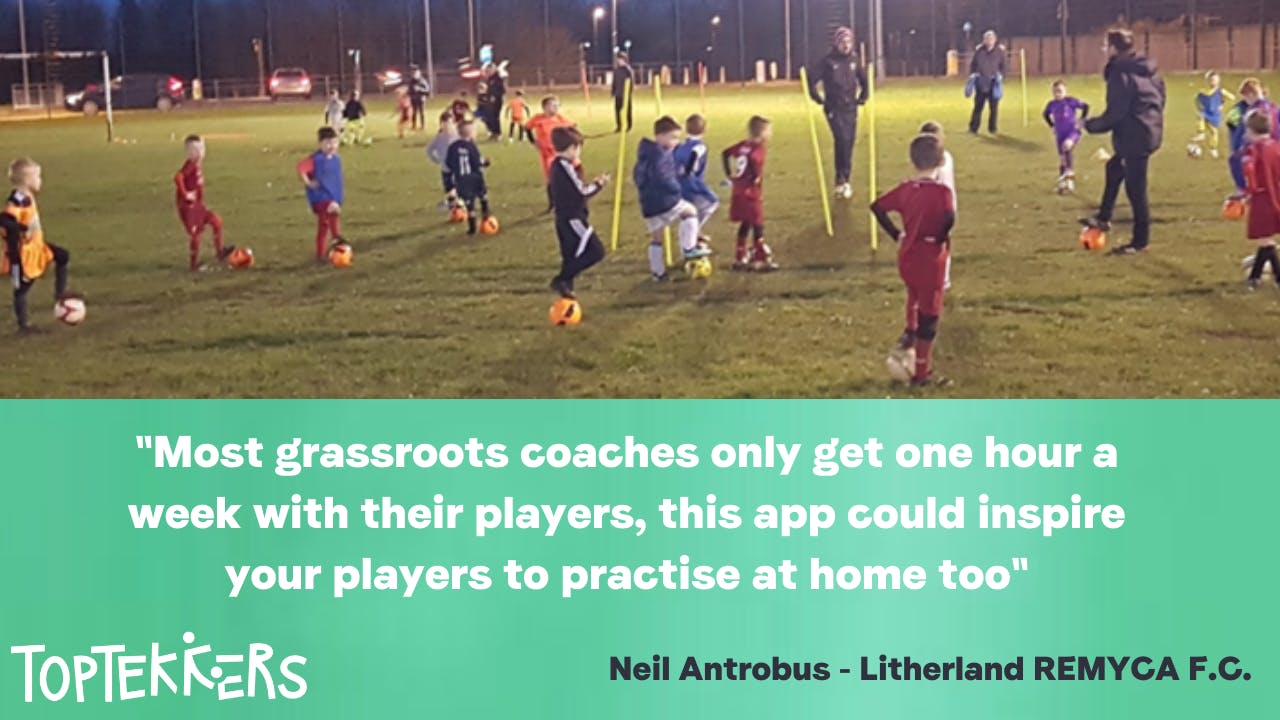 He added: "As we return to socially-distant football training I will be able to set the players a weekly arrival challenge which they can view beforehand. I will be able to see if they can beat their scores in a live competition. I cannot speak highly enough of the app. I also expect, from the snippets of conversation with the creative team behind the app it is only going to grow and grow which is exciting!
"With everything in mind, we are expanding our use of the app further throughout the club. It is an app that every age and ability could benefit from. I just think it is important to remember that educating and developing players is a long process, it requires practice and hard work. Most grassroots coaches only get one hour a week with their players, this app could inspire your players to practise, play and have some fun at home too. So what are you waiting for? Get in touch with the TopTekkers team and see how it could benefit your team too!"
Thanks Neil!
To get TopTekkers for your team, click here.
For more information about Litherland REMYCA FC, follow them on Twitter here.