The heroic Lionesses have roared their way to Sunday's Euro 2022 final against Germany, and inspired a whole generation of girls along the way.
Having already thrashed Norway and Northern Ireland, and come from behind to dispatch of Spain, on Tuesday (July 26) England beat World #2-ranked side Sweden 4-0 to earn their place in the final.
The achievements of the England Women's Team were summed up by England and Manchester United legend David Beckham, who posted a message to the Lionesses on Instagram.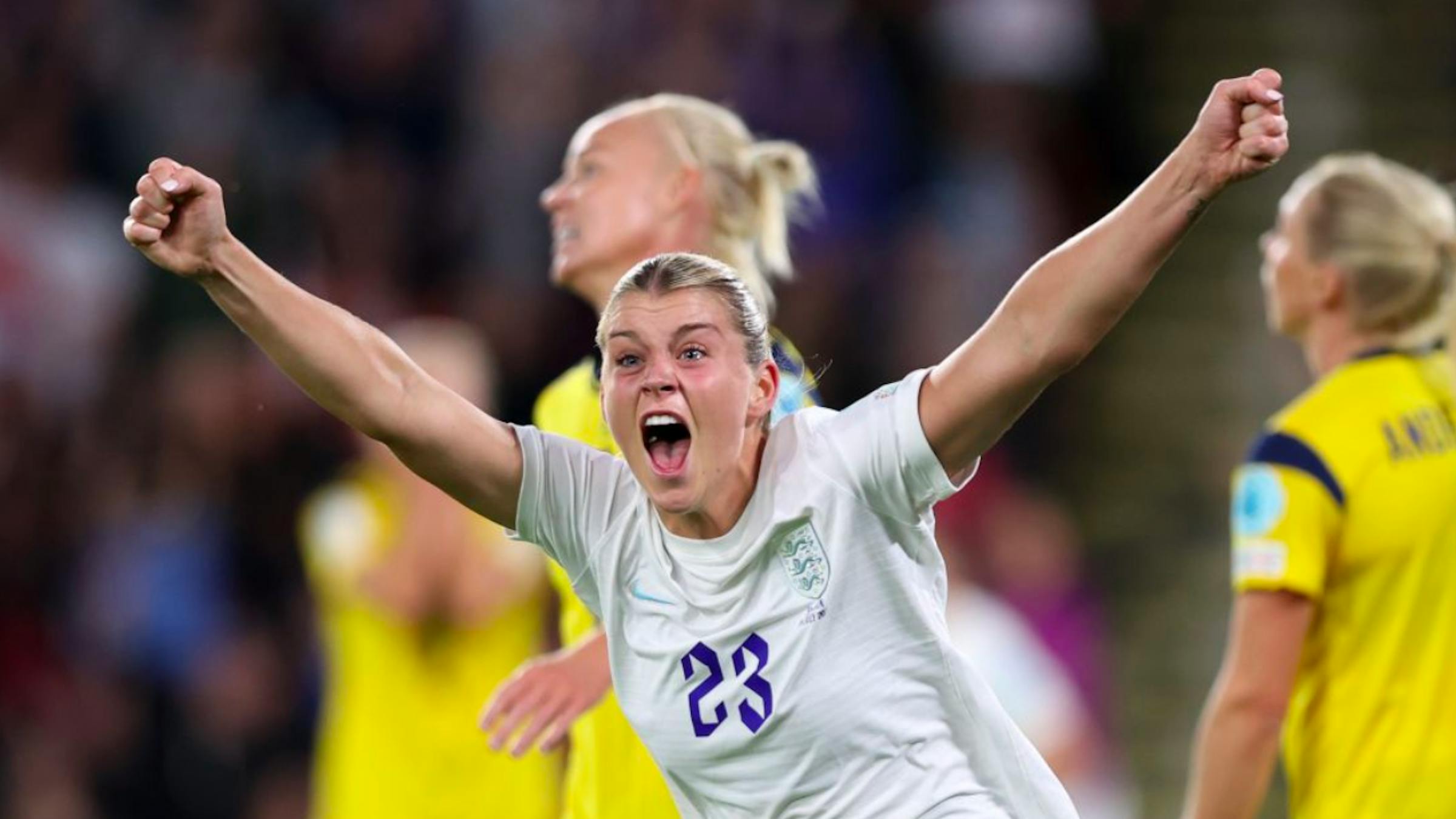 He said: "Hey, Lionesses, it's David here. I just wanted to send you a message, firstly to say congratulations on an incredible tournament so far, it's been so uplifting, it's been so exciting, and it's been so inspiring. 
"And for me personally, you know I have a daughter, so for her to be inspired by you girls and your performances has been incredible."
It's clear that Harper Seven Beckham is not the only young girl to have found new Three Lions heroes she can relate to and aspire to emulate.
That she felt particularly uplifted and inspired by the Lionesses while sharing a home with a man who has been capped 115 times for England Men's Team, is particularly telling about the importance of the representation that the Women's Euros is providing for young female soccer fans.
New and established stars such as Beth Mead, Georgia Stanway, Ellen White, Fran Kirby, and Alessia Russo have become household names overnight.
The Lionesses and other stars of women's football around the world are doing their bit - but we need to make sure we're doing ours.
Women and girls face post-Covid fitness crisis
In mid-2022, we're still feeling the effects of the Covid lockdowns, which were seriously detrimental to the fitness levels of, in particular, women and girls.
New data from Nuffield Health, the UK's largest healthcare charity, also shows that nearly two in five (38%) women said they had got out of the habit of exercising during the lockdown, and 14% gave up exercising completely.
The full results from the research shows that women reported more barriers to fitness than men, as well as having less time and lower motivation to get active.
Judy Murray, Ambassador for the Healthier Nation Index, said: "We face a really big challenge when it comes to getting the nation active, and women, in particular, are struggling to find the time to focus on their wellbeing."
It's not just women that are facing an exercise crisis, children are too - girls in particular.
Last year, Women In Sport conducted a survey about the effects of the pandemic on the fitness of young girls. Half of the girls (51%) surveyed were concerned that they were losing their fitness. Additionally, many said they had lost confidence in their sporting ability (41%).
As part of the same research, it was discovered that 70% of girls said that options for online exercise needed to be fun/exciting.
That's where TopTekkers comes in
TopTekkers is the mobile app created to help young children to reach their potential in soccer, but it's also great for solidifying a regular exercise regime for those who use it.
The app contains more than 50 skill challenges designed by English Premier League Academy and USSF A Licence coaches, which you can access at the touch of a button. Players are rewarded for their progress and can use the leaderboards to see how they measure up against their friends and teammates!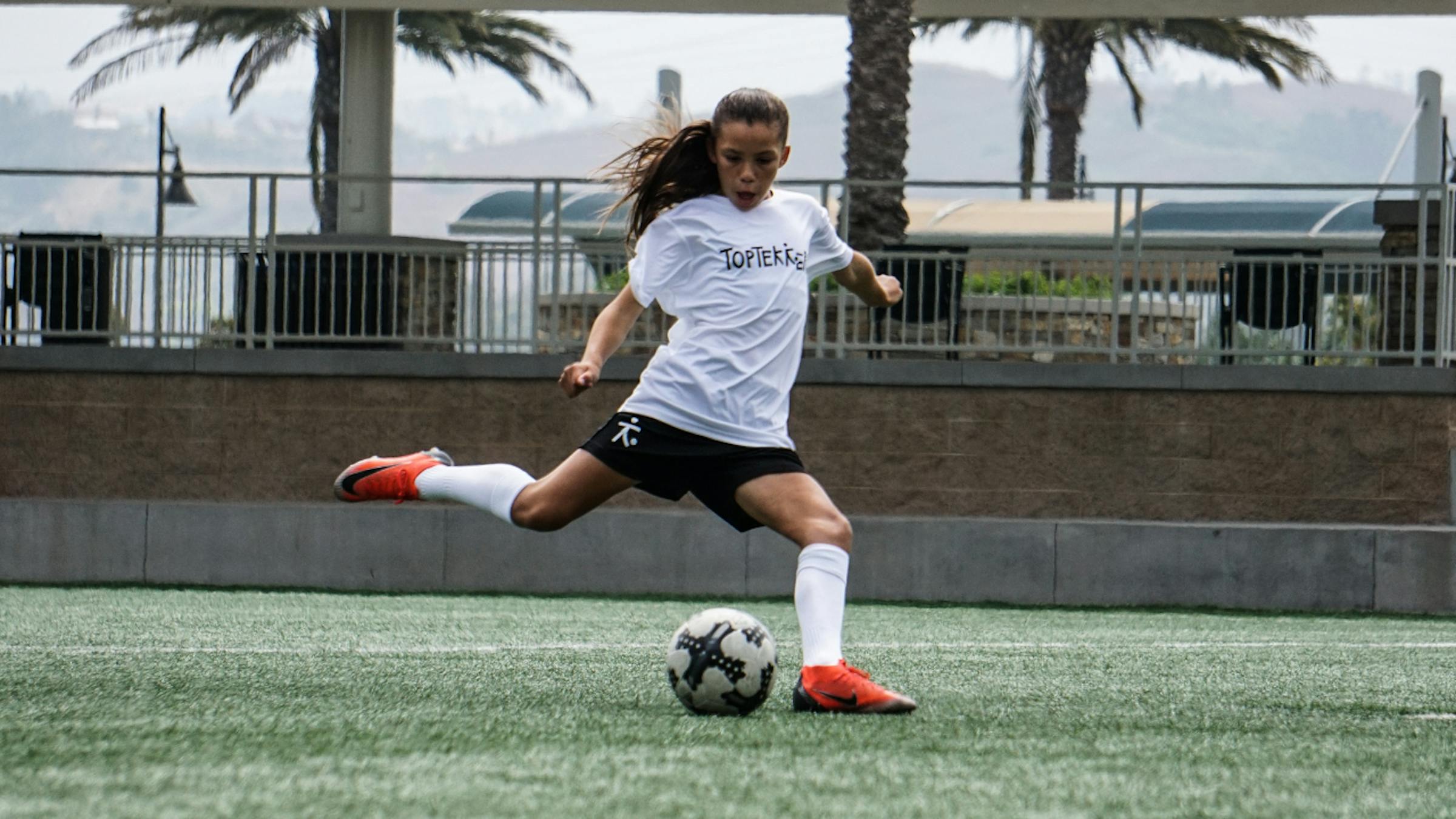 It's trusted by players, coaches, and teams all around the world including MLS and English Premier League teams, and your child can get started for FREE - just download the app here to learn more.
Giving girls the confidence to follow in the Lionesses' footsteps
The ultimate goal should be for soccer to be accessible for all children, no matter their gender. And in many ways, the sport is getting more and more inclusive every year.
According to the FA, the amount of women and girls playing football in the UK is on track with their targets, but that doesn't tell the whole story in terms of accessibility.
A report by Funding4Sport concluded a number of barriers to women and girls' participation in sport, including confidence and parental influence. Recommendations in the report included promoting beginner and intermediate activities, and introduce parent-daughter structures to promote and encourage development in sport.
Research conducted by The Coaching Manual shows that regular use of the TopTekkers app - practicing away from but in addition to structured training sessions - was directly related to an increase in player happiness within soccer/their club.
So, girls are taking up soccer in record numbers, but are they being given the appropriate support in their developmental journeys?
Coaches and parents must make more of an effort to welcome girls into a sport that has been male-dominated for more than 150 years. The cultural shift is happening, but we will never see a level playing field until the girls who are inspired to take up the sport are given the support they need to reach their potential within it.